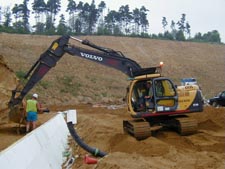 Albury is home to one of only two active landfill sites in the county of Surrey. ABC Group played a pivotal role in preparing part of the site for landfill, by undertaking energised quarry faced lining in preparation for MDPE lining. This plays a vital role in ensuring the landfill site complies with environmental and health standards.
At ABC Group we're experts in delivering earth works and quarry lining services for a wide variety of clients, helping ensure long-lasting stability of any site. We carry out all earth works in accordance with the latest regulations and best practice guidelines.
Want to know more? Please don't hesitate to get in touch.