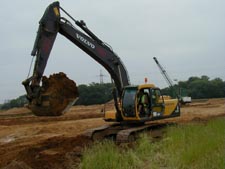 Large-scale site preparation is one of the key services we at ABC group provide to our clients. At this site in Shepperton, Middlesex, we prepared the ground for a large-scale Aggregate extraction project through stripping the soil, while adhering to all environmental regulations and best practice standards for soil stripping and site preparation throughout.
In the same way, ABC Group can undertake a comprehensive programme of site preparation works, ready for all kinds of projects including mineral extractions, large-scale developments, and civil engineering projects. This covers everything from demolition of existing buildings through to waste removal and site levelling.
Please do not hesitate to contact us to find out more.